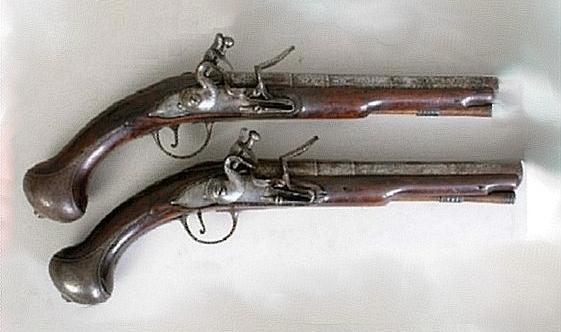 European Pistols
These are the best and most intricate pistols available. Here are pictures of original pistols so that you can see details. Each pistol barrel design is profiled according to European Golden Mean design methods for the best appearance possible, just as was done with the originals 300 years ago.
Each order is handcrafted and inlet by hand, when ordered. This takes time, and we appreciate your patience when ordering our European pistol kits. The delay should never be unreasonable.
Ordering a European pistol kit
Choose the kit in the metal you wish for the mountings (triggerguard, buttcap & thimbles) then select a barrel from the list with each pistol.
Every part you need to build the pistol is included in the kit except finishing supplies (which are available from our catalog or you can order online). Click on the Pistol name to see the part descriptions and photos. We tailor each kit around the selected barrel, so that each part is appropriate to the finished gun.
It is important that you order the gun kit and the barrel at the same time; we install the barrel of your choice into the stock of your kit.
1733-1760 French Dragoon Pistol
We offer this pistol with what is termed in modern times the type D hardware. We also have several trigger guards and sideplates that can be used to upgrade this model. This model was used for military and civilian markets.

Please order the barrel and the kit; we will assemble the barrel before shipping your kit.

Matching pistol barrel

| | |
| --- | --- |
| BLPTR5012S | 32 Ga .50cal x 12" Smoothbore with plug |
| BLPTR5412S | 28 Ga .54cal x 12" Smoothbore with plug |
| BLPTR6212S | 20 Ga .62cal x 12 " Smoothbore with plug |

1743-1745 English Heavy Dragoon Pistol
Our kit is modeled after the Churchill model

Please order the barrel and the kit; we will assemble the barrel before shipping your kit.

Matching pistol barrel

| | |
| --- | --- |
| BLPR5010S | .50cal Smoothbore x 10" Swamped with plug |
| BLPR5410S | .54cal Smoothbore x 10" Swamped with plug |
| BLPR6210S | 20 Ga Smoothbore x 10" Swamped with plug |

Circa 1763 English Light Dragoon Pistol
An English Military Flintlock Pistol

No pre-inlet stocks available at this time

Please order the barrel and the kit; we will assemble the barrel before shipping your kit.

Matching pistol barrel

| | |
| --- | --- |
| BLPR5010S | .50cal Smoothbore x 10" Swamped with Plug |
| BLPR5410S | .54cal Smoothbore x 10" Swamped with Plug |
| BLPR6210S | 20 Ga Smoothbore x 10" Swamped with Plug |

1690/1700 Fine English Georgian Pistol

No pre-inlet stocks available at this time

Please order the barrel and the kit; we will assemble the barrel before shipping your kit.

Matching pistol barrel

| | |
| --- | --- |
| BLPRS508S | .50cal Smoothbore x 8" Swamped Round Stepped with plug |
| BLPRS548S | .54cal Smoorhbore x 8" Swamped Round Stepped with plug |
| BLPRS628S | 20 Ga Smoothbore x 8" Swamped Round Stepped with Plug |

Fine Danish Gentleman's Pistol

No pre-inlet stocks available at this time

Please order the barrel and the kit; we will assemble the barrel before shipping your kit.

Matching pistol barrel

| | |
| --- | --- |
| BLPOR4575R | 45 cal Rifled x 7-1/2" Octagon to Round w/ Wedding Band Swamped with Plug |
| BLPOR5075R | .50 cal Rifled x 7-1/2" Octagon to Round w/ Wedding Band Swamped with Plug |
| BLPOR5075S | 50 cal Smoothbore x 7-1/2" Oct to Round w/ Wedding Band with Plug |
Muzzleloader Builder's Supply, P.O. Box 848, Aberdeen, ID 83210
Business Hours: Mon-Fri 9am-5pm
Email: mbssales@hotmail.com - Toll Free: 877 397-3008 - Fax: 208 397-3009