Bethlehem School
Bucks County - Andrew Verner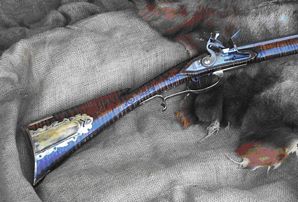 Andrew Verner style built from the pattern shown by contemporary builder, Dane Lund with swamped barrel. Master gunmaker Andrew Verner is thought to have worked east of Reading and possibly south of Bethlehem during the 1780's - 1790's. It features a bit heavier buttstock, and a wrist detail which is wider than tall in profile at the breech, tapering gently back into the comb. Another Verner feature is the classic straight comb with graceful curved underbelly which terminates at the trigger area. I know of only two rifles by him and I offer a patchbox for both. Both are side-opening patchboxes which appeared typical of his work. The very early gun uses the door only. The later rifle was more intricate; finer and thinner in total detail throughout, with ornate inlays including belly plate, wire inlay, extra long thimbles, extensive and beautiful carving and engraving, and uses the fancier patchbox with sideplates and finial. The later gun looks as if it used a lock similar in design to the large Siler flint or L&R Classic. The earlier rifle would use a flintlock similar to the R.E. Davis Early English. All original pre-Revolutionary war long rifles always had single triggers. They may have been later fit with the more modern double triggers when they came of style.
This wonderful pre-shaped stock pattern is based on the shape of an early rifle by A. Verner. A slimmer and taller buttstock, with wrist detail which is wider than tall in profile at the breech, it tapers gently back into a sharp comb. This stock is very slim to make an appropriate Bucks County style from most any of the makers in the Allentown area or Bethlehem School of later gunsmiths. (Another maker of this school with similar design includes Jacob Dubbs of Northampton County, Moll and Rupp; but an additional feature significant to their and other "Allentown" gunmakers was a pronounced roman-nosed comb which complimented a curvature in the underbelly. That feature may be easier to achieve with our earlier style of Lehigh County stock). Slight modification to the comb of this stock allows this roman-nosed style by neighboring Berks County makers such as the Angstadts, G. Feder and W. Haga. Pre-shaped stock comes with standard straight barrel channel up to 7/8" and drilled ramrod hole. Stock will handle up to a maximum of a B weight barrel. Inletting for Siler lock, triggers and swamped barrels are available at an extra charge. Swamped barrels must be individually inlet. Please allow an extra two weeks minimum to process swamped barrel inlets.
PRE-SHAPED STOCK with
STRAIGHT BARREL & RAMROD CHANNEL
30860 P++ Grade Curly Maple
30870 SP Grade Curly Maple
30875 SP+ Grade Curly Maple
30880 Cherry
30820 Inlet Lock (for Silers only)
30830 Inlet Trigger
15975 Inlet Swamped Barrel
MOUNTINGS
22200
Buttplate
(Brass)
22310
Triggerguard
(Brass)
13880
Rear Thimble
(Brass)
13820
Upper Thimbles
(Brass)
22060
Sideplate
(Brass)
22100
Toeplate
(Brass)
12830
Nosecap
(Brass )
10440
Patchbox
(Brass)**
16500
Front Sight
(Silver Blade)
16540
Rear Sight
(Early Low)
25830
Wrist Inlay
(German Silver)
25850
Cheek Inlay
(German Silver)
STANDARD SPECIFICATIONS
Straight Octagon barrels….......13/16 or 7/8"
Drilled ramrod hole ..........…...................3/8"
Barrel Channel Length ……………........42"
Butt width x height………... .1-3/4" x 5-1/4"
Lock area …………….......1-1/4" x 6-1/2 "
Width across the lock face …............1-5/8"
Drop at the heel ………………........3-1/4"
Trigger Pulls up to 15"
STANDARD FITTINGS & PARTS
14925
Siler Flintlock
14870
Davis Double-Set Trigger (OR)
14840
Davis Single Pull Trigger (more appropriate)
19300
.45 x 13/16 x 42" Green Mountain Barrel
16080
Flared Tang Breech Plug 5/8-18
21180
1/4"-28 S.S. Touch Hole Liner – Slot Head
19630
2 ea, Oval Head 8-32 Lock Screws
16450
1 ea, Tang Screw 8-32
27600
3
ea, Underlugs for Pins
16380
1 Pkg of 10 Oval Head #3 Wood Screws
16390
1 Pkg of 10 Oval Head #5 Wood Screws
16400
1 Pkg of 10 Oval Head #8 Wood Screws
24630
1 Pkg of 6 Pieces Pin Stock 1/16"o.d.
25450
1 Pkg German Silver Nails for Inlays
16795
3/8 Ram Rod w/ 8-32 Brass Tip
17230
Cleaning Jag, .45 Cal. 8-32s