STANDARD SPECIFICATIONS
Straight Octagon barrels….......13/16 or 7/8"
Drilled ramrod hole ..........….....5/16"or 3/8"
Barrel Channel Length ……………........42"
Butt width x height……….......1-13/16" x 5"
Lock area ……………….…......1-1/2" x 8"
Width across the lock face …...........1-9/16"
Drop at the heel ……………………........5"
Trigger Pulls up to 15"
P
RE-SHAPED STOCK with
STRAIGHT BARREL & RAMROD CHANNEL
30893
P++ Grade Curly Maple
30894
SP Grade Curly Maple
30895
SP+ Grade Curly Maple
30896
Cherry
30820
Inlet Lock (for Silers only)
30830
Inlet Trigger
STANDARD FITTINGS & PARTS
14925
Siler Flintlock
14855
Davis Single Pull Trigger
19380
7/8" x .50 caliber Green Mountain Barrel
16080
Flared Tang Breech Plug 5/8-18
21180
1/4"-28 S.S. Touch Hole Liner – Slot Head
19630
2 ea, Oval Head 8-32 Lock Screws
16450
1 ea, Tang Screw 8-32
27600
3ea, Underlugs for Pins
16380
1 Pkg of 10 Oval Head #3 Wood Screws
16390
1 Pkg of 10 Oval Head #5 Wood Screws
16400
1 Pkg of 10 Oval Head #8 Wood Screws
PINSTOCK
1 Pkg of 6 Pieces Pin Stock 1/16"o.d.
25450
1 Pkg German Silver Nails for Inlays
16795
3/8 Ram Rod w/ 8-32 Brass Tip
MOUNTINGS
29300
Buttplate
(Brass)
14470
Triggerguard
(Brass)
13610
Rear Thimble
(Brass)
13670
Upper Thimbles
(Brass)
21990
Sideplate
(Brass)
11436
Rupp Toeplate
(Brass)
12860
Nosecap
(Brass )
10320
Patchbox
(Brass)**
10560
Rupp Patchbox
(Brass)**
16500
Front Sight
(Silver Blade)
16540
Rear Sight
(Early Low)
25830
Wrist Inlay
(German Silver)
25850
Cheek Inlay
(German Silver)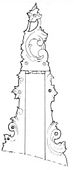 Our beautiful new Rupp Patchbox!
Brass #10960 has 2 finial piercings German Silver #10970
Rifles from the Lehigh Valley are known for a very unique profile. They share some very similar characteristics with neighboring Bucks County. The comb-line is very graceful, with an ever-so-slight curve while the lower line exhibits a gentle arc to the toe. Lehigh County gunsmith John Moll and later John Moll, Jr. (sometimes spelled Mull) are recorded as makers in the tax records from 1781 through 1821. Their specific design elements, as well as those of Young and Hawk, are accurately and historically portrayed in our pre-shaped stock. A very slight almost straight roman nose, high drop, elegant undercurve and tall buttplate are details of the Moll style. Molls triggerguards were broad. Another maker and very articulate in design, engraving, carving and wire inlay, was John Rupp, ca 1800. The nose of the comb of this stock can be shaped to match the Rupp style by blending the nose into the wrist. This graceful stock also matches a later Rupp rifle, circa 1800 of Lehigh County, PA. which I recently produced a new patchbox for. It is an elegant rifle of .48 caliber, 42" straight octagon barrel. (Please note that the double curve of the earlier Lehigh is available but not shown. Just call and ask and we can order this other style for you)!
Right-hand only.