1803 Harper's Ferry Rifle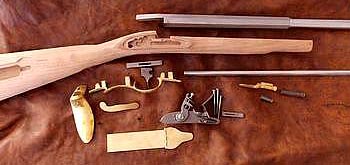 Lewis and Clark carried Harper's Ferry style rifles on their journey to the Pacific Ocean and back. Two original guns have surfaced that are probably authentic to Lewis and Clark's journey, though the Lewis and Clark gun were likely prototypes. Although our kit is intended to recreate the stock, 1803 Harper's Ferry style rifle, it might serve as a starting point to recreate the modified version that Lewis and Clark carried on their Pacific journey.
The stock is fully inlet for most of the hardware so there is not much room to make modifications or changes in hardware.
Order both #1803HFKIT
and 1803HFKITA
to get the whole kit as listed.
Standard items listed in this kit

| | |
| --- | --- |
| ST-HF1803 | Stock (Walnut only) |
| BLOR54HF33 | .54 cal. rifled |
| RR-HF | 1/4" steel ramrod with flaired tip |
| 16617 | Under rib |
| Thim-HF | Cast thimble set |
| RS-1803 | Rear Sight |
| 35032 | Front sight |
| 27666 | Under lug |
| 29740 | Wedge key |
| Custom | Brass strip for forearm support on later production models |
| 29936 | Harpers Ferry Lock |
| SP-HF-B | Harpers Ferry Sideplate |
| 16440 | (2) Lock Bolts 10-32 threads |
| 16480 | Tang Bolt 10-32 threads |
| BP-339-B | Buttplate |
| TG-340-B | Trigger Guard |
| 36507 | Trigger Plate |
| 28840 | Trigger |
| PB-HF1803 | Patchbox |
| 10160 | Patchbox Release kit |
| 16400 | Wood Screws for Buttplate |
| 16390 | Wood Screws for Patchbox |
| PINSTOCK | Pin stock |
| DG4-1803HF | Plan |
Muzzleloader Builder's Supply, P.O. Box 848, Aberdeen, ID 83210
Business Hours: Mon-Fri 9am-5pm
Email: mbssales@hotmail.com - Toll Free: 877 397-3008 - Fax: 208 397-3009