1690 Fine English Georgian Pistol
From an original Wilson Georgian period English flintlock pistol. A fine example of a fancy pistol which could been owned by the gentry or military officers, circa 1690-1700.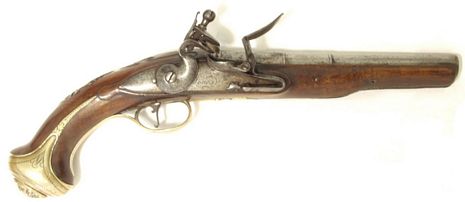 Our pistol stock is available in either superb premium curly maple stock wood, or curly walnut fully inlet for our English style three stepped round smoothbore barrel. Your choice of brass, steel or German silver mountings. Stock is provided shaped and inlet for our 8" stepped round barrel and with ramrod hole & channel.
This stock & mountings is the finest reproduction of an original English period style pistol.
Order a complete kit. Order your barrel, then order the kit with the stock and the metal you wish your mountings (buttplate, triggerguard & thimbles) to be in. Each stock is fully inlet for our 9-3/8" long swamped octagon to round barrel, and with ramrod hole & channel cut, and is available in your choice of premium striped curly maple or figured curly walnut. Mountings are available in your choice of brass, steel or German silver. Kits will include all parts to build one pistol except stains and finishes.
Stains and finishes are also available in our catalog or online.
Individual parts are also available in the catalog. See the parts list below.

Standard Specifications
| | | |
| --- | --- | --- |
| Barrel Channel Length | … | 8" |
| Lock Area | … | 1-1/4" x 5-1/2 " |
| Width across Lock Face | … | 1-1/2" |
| Overall Length | … | 13-1/2" |
The Kit and Barrel
Don't forget to order a barrel!
Pistol Barrel

| | |
| --- | --- |
| BLPRS508S | .50cal Smoothbore x 8" Swamped Round Stepped with plug |
| BLPRS548S | .54cal Smoorhbore x 8" Swamped Round Stepped with plug |
| BLPRS628S | 20 Ga Smoothbore x 8" Swamped Round Stepped with Plug |
Order Individual Parts
Pre-shaped stock with
straight barrel & ramrod channel

| | |
| --- | --- |
| 34500 | SP+ Grade Curly Maple |
| 34505 | Walnut |
| 30820 | Inlet Lock |
| 30830 | Inlet Trigger |
Mountings

| | |
| --- | --- |
| 34530 | Brass English Georgian Triggerguard |
| 34245 | Brass English Georgian Buttcap |
| 34560 | Brass English Georgian Thimble Set |
| 34575 | Brass English Georgian Sideplate |
| 34590 | Brass English Georgian Sideplate |
| 34535 | Steel English Georgian Triggerguard |
| 34250 | Steel English Georgian Buttcap |
| 34565 | Steel English Georgian Thimble Set |
| 34580 | Steel English Georgian Sideplate |
| 34540 | German Silver English Georgian Triggerguard |
| 34255 | German Silver English Georgian Buttcap |
| 34570 | German Silver English Georgian Thimble Set |
| 34585 | German Silver English Georgian Sideplate |
| 34595 | erman Silver English Georgian Wrist Inlay |
Fittings & Parts

| | |
| --- | --- |
| 40040 | Chambers Small Queen Anne Flintlock |
| 34325 | English Dragoon Single Trigger |
| 19626 | 2 ea. 6-32 x 3/8 Oval Head Lock Screws |
| 16450 | 1 ea, Tang Screw 8-32 |
| 27667 | 2 ea. 1/2" Underlug Concave Base |
| 34326 | Complete tapered and tipped ramrod |
| 16395 | 1 Pkg of 12 Oval Head #5 Wood Screws |
| PINSTOCK | 1 Pkg of 6 Pieces Pin Stock 1/16"o.d. |
Muzzleloader Builder's Supply, P.O. Box 848, Aberdeen, ID 83210
Business Hours: Mon-Fri 9am-5pm
Email: mbssales@hotmail.com - Toll Free: 877 397-3008 - Fax: 208 397-3009