1733-1760 French Dragoon Cavalry Pistol
A Military Dragoon Flintlock Pistol
This pistol is the second release of the French military dragoon flintlock pistol with a 12" barrel, which remained the standard issue until 1760.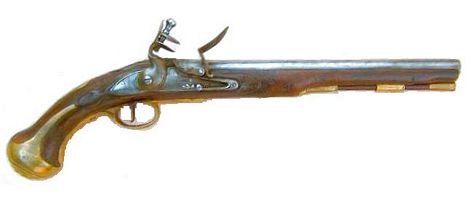 It was produced in a plain soldiers model "D" and a fancier "C" grade suitable for officers. Both versions can be made from this stock and mountings.
Our pistol stock comes in premium striped curly maple, or figured curly walnut fully inlet for our 12" long swamped octagon to round barrel, and with ramrod hole & channel. Your choice of brass, steel or German silver mountings. This stock & mountings has been produced from an original for your assurance of the finest possible reproduction quality of historically accurate architectural lines in this French period style.
To order a complete kit, choose the barrel, then select the metal you wish your mountings (buttplate, triggerguard & thimbles) to be in. Kits will include all parts to build one pistol; stains and finishes not included.
To order individual parts, see the parts list and select the parts you need.
Standard Specifications
| | | |
| --- | --- | --- |
| Barrel Channel Length | … | 12" |
| Lock Area | … | 1-1/8" x 6 " |
| Width across Lock Face | … | 1-5/8" |
| Overall Length | … | 17-3/8" |
The Kit and Barrel
Don't forget to order a barrel!
Pistol Barrel

| | |
| --- | --- |
| BLPTR5012S | 32 Ga .50cal x 12" Smoothbore with plug |
| BLPTR5412S | 28 Ga .54cal x 12" Smoothbore with plug |
| BLPTR6212S | 20 Ga .62cal x 12 " Smoothbore with plug |
Order Individual Parts
Pre-shaped Stock with
Straight Barrel & Ramrod Channel

| | |
| --- | --- |
| 34200 | SP+ Grade Curly Maple |
| 34205 | Walnut |
| 30820 | Inlet Lock |
| 30830 | Inlet Trigger |
Mountings
34230
Brass French D Triggerguard
34245
Brass French D Pistol Buttcap
34360
Brass French C/D Thimble Set
34260
Brass French D Pistol Sideplate
34235
Steel French D Triggerguard
34250
Steel French D Pistol Buttcap
34165
Steel French C/D Thimble Set
34265
Steel French D Pistol Sideplate
34240
German Silver French D Triggerguard
34255
German Silver French D Pistol Buttcap
34170
German Silver French C/D Thimble Set
34270
German Silver French D Pistol Sideplate
Fittings & Parts

| | |
| --- | --- |
| 21090 | L&R Classic Flintlock Unbridled |
| 34190 | French Single Trigger |
| 19625 | 2 ea. 6-32 x 3/8 Oval Head Lock Screws |
| 16450 | 1 ea, Tang Screw 8-32 |
| 27667 | 2 ea. 1/2" Underlug Concave Base |
| 34225 | Complete tapered and tipped ramrod |
| 16395 | 1 Pkg of 12 Oval Head #5 Wood Screws |
| PINSTOCK | 1 Pkg of 6 Pieces Pin Stock 1/16"o.d. |
Muzzleloader Builder's Supply, P.O. Box 848, Aberdeen, ID 83210
Business Hours: Mon-Fri 9am-5pm
Email: mbssales@hotmail.com - Toll Free: 877 397-3008 - Fax: 208 397-3009